DISCLAIMER: I am an idiot. On the verge of posting the following, I discovered
1
, much to my chagrin, that Inprint Books is not (yet) a real company, but a student project by the irritatingly talented
Matthew Young
2
 My reactions were as follows: 1) I've wasted my time. Livid. 2) Actually, this has provoked some interesting thoughts: I could rewrite, keeping some of the central ideas, shift the focus from InPrint, and certainly
not
let on that I'd been fooled. 3) That would be pretty lame. I
was
fooled, and Matthew deserves the credit (well, most of the credit. He made a very convincing site but, as noted before, I
am
an idiot. Let's call it 80/20). So here, in all their idiotic glory, are my thoughts on an upstart young publishing venture called Inprint.
Inprint Books is picking a fight. "Books vs Ebooks" it proclaims on its website. It's the kind of battle cry calculated to get some attention by the new kid in a crowded playground, and it works.
Three videos, including the one below, and three radio spots pit "Walter", a book voiced in reassuring Scottish tones3 against the "E-Text 5000 Pro", an ereader with a dodgy speech synthesiser.
http://www.vimeo.com/11891958
The message is clear. Ebooks are cold and robotic. "Real" books on the other hand are cosy, tactile and trustworthy.
"We don't do ebooks", Imprint proudly proclaims. What they do do, is gorgeously crafted "real" books. The covers aren't printed, but assembled by hand from laser-cut layers of coloured card, while the endpapers are screenprinted, again by hand.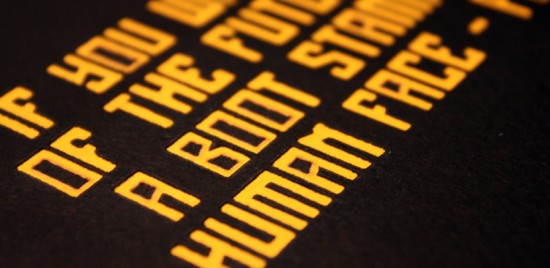 A desirable product and a great marketing campaign, built around some ingenious misdirection – "We don't do ebooks" is a much snappier slogan than "we do nicer, more expensive editions of existing books."
The ebook they present as an opponent is something of a straw man, capable of only simple black and white text and devoid of any capacity for pleasing visual design. But that's not really the point. Inprint aren't really on an anti-ebook crusade. They're not trying to convince confirmed ebookers, or the curious but undecided. They're not really even preaching to the converted. They're simply hitching their wagon to the horse most people are talking about, using humour and a little mild controversy.
There are five titles in the first series: Great expectations, 1984, To Kill a Mockingbird, Papillon and Trainspotting. At £25 each or £100 for the set, they're clearly a luxury purchase. Which, in the context of the marketing, raises an interesting question: between the ereader and Inprint's luxuriousy hand-assembled tomes, which would you be most likely to actually read?
Inprint is appealing for title suggestions for its next series. Readers are invited to fill in the blank: "My favourite book is __________ and I would love Inprint publish their own version of it." These are editions aimed – explicitly – at people who have already read them. People who, I expect, will keep them pristine on the shelf, and return to their trusty, well-thumbed paperback if they want to read them again.
I love books, particularly those that strive to be beautiful objects – I've even had a hand in some myself.4. A shelf full of Inprint editions would be fine thing. And yet… and yet… something about this fetishism makes me uneasy. It's like too much icing and not enough cake. There isn't a single photo of the inside of one of these books on the site, nor any mention of the typesetting5 – they're books to be looked at, not read. They'd look great on the shelf, but I'd be reluctant to crack the spine, let alone read one in the bath or on a lilo – the very places the ads chastise ebooks as unsuitable for.
The Inprint campaign worked: it made me aware of, and covet, their books.6 But it also made part of me want to get back to the basics, to the words between the covers. Rather than setting me against ebooks, it actually fuelled an excitement for them – and not the enhanced variety either, but the utilitarian, nothing but the text kind. A desire to forget about arranging the shelves and just read something.